Help Ukraine
– Actively and Tangibly



Lublin, outside Hotel Lvov,12.2.2023: Roope, Jevgenij, Magnus. In the background: the donated Ford Ranger model 2008, driven 200 000 km – after this our Ranger got a new meaning in life. On the flatbed: spare tyres + seven generators.

Update, March 24, 2023: We have now reached 170 634 euros!
Update, March 9, 2023: We have now reached 151 179 euros. Slava Ukraini!
Update: March 3, 2023: We've already reached 85 000 €! The new goal is 100 K. Let's do this!
Feb 26th, 2023
Dear Recipient,
My name is Magnus Londen. I'm a journalist and entrepreneur in Helsinki, Finland. I'm writing to you concerning an important matter where you can easily make a big difference.
Russia's so-called "special military operation" in Ukraine has now been going on for a whole year (or in truth for nine years). Civilian targets are constantly under attack and the war crimes are countless. This is something that we should not accept. Ukraine needs our support.
We cooperate with an organization in Ukraine, who have told us that Ukraine desperately needs robust pick-up cars (4x4), mobile power stations and generators. The cars are badly needed to transport people and equipment to and from the front lines in the confrontation, and generators are needed in many places including in hospitals close to the front.
YOU can help Ukraine get this vital equipment.
I visited Ukraine in November 2022 as a reporter and saw a country that is not going to give in – I was filled with admiration and empathy. Then, in February 2023, together with Finnish outdoor guide Roope Roine, I drove a used Ford Ranger pick-up from Finland to the border of Ukraine where we handed it over to the Ukrainian car mechanics who will service and paint the car before delivering it to the front.
Through a group of friends, we had raised money not only for the car but also for seven generators. Our meeting in Lublin with the Ukrainian recipients was something we will never forget (pictured above).
But more needs to be done. The spring of 2023 will be crucial for the continued existence of Ukraine as a sovereign and free state. Therefore, we are now launching a larger fundraiser: the Caravan to Ukraine.
We are raising money to buy and personally deliver three pick-up cars (or equivalent) that will also be loaded up with power stations, generators and other equipment. An estimated EUR 50 000 is needed for the caravan.
Every single contribution helps Ukraine. Any donation from EUR 100 up is welcomed!
If you want to, you can personally sponsor certain equipment:
The generator costs 500 euros
The Power stations costs roughly 1100 euros
A used 4x4 pick-up costs roughly 5000-8000 euros.
All cars will be inspected, repainted and re-equipped in Kyiv.
Our plan:
• We collect at least 50,000 €: three cars (four-wheel drive) with mud tires, power stations and generators on the flatbed.
• Everything is transparently reported on our google drive
• The trip down is documented live via a whatsapp group for everyone who contributes
• Post-documentation (images and text) is given to everyone involved in the funding
• We travel down (with six drivers from Helsinki) on March 25, 2023 to Lublin in Poland where we meet the recipients.
Our promise:
• Everything will be delivered to Ukraine promptly and to those who need it.
• We have 0 euros in administration costs. We are all doing this as a voluntary work.
• Since we've done this before, we know it works.
The receiver
The recipients in Ukraine are: Intitative E+
The organization has already received over 200 cars, completed over a thousand aid projects and delivered over 8000 pieces of personal first aid equipment.
Sisu Ukraine is a Finnish non-profit organization, business ID 3262835-3. It has an official money collection permit in Finland (RA/2022/1052). All money is channeled through them. Click to read more!
Thanks for your attention. We're counting on you!
NOW FOLLOW THESE STEPS:
Pay your grant to this Finnish account number: FI1746000011218753.
BIC/SWIFT: ITELFIHHXXX
Important: Use this reference in the message area: CARAVAN
Payment receiver: Sisu Ukraine rf
Address (if needed for the payment)
Kylmäläntie 60
74700 KIURUVESI
FINLAND
It's urgent. Act NOW to facilitate our planning and purchasing. The absolute last payment date is Wednesday, March 8, 2023. We leave from Helsinki on March 25th and need time to buy three cars + a lot of equipment before that.
If this fundraiser provides more than what is needed for Project Caravan, the extra funds go to corresponding projects within the framework of Sisu Ukraine. Your money will reach its goal no matter what.
Feel free to spread this petition to people you think want to help.
Slava Ukraini!
Magnus Londen & Roope Roine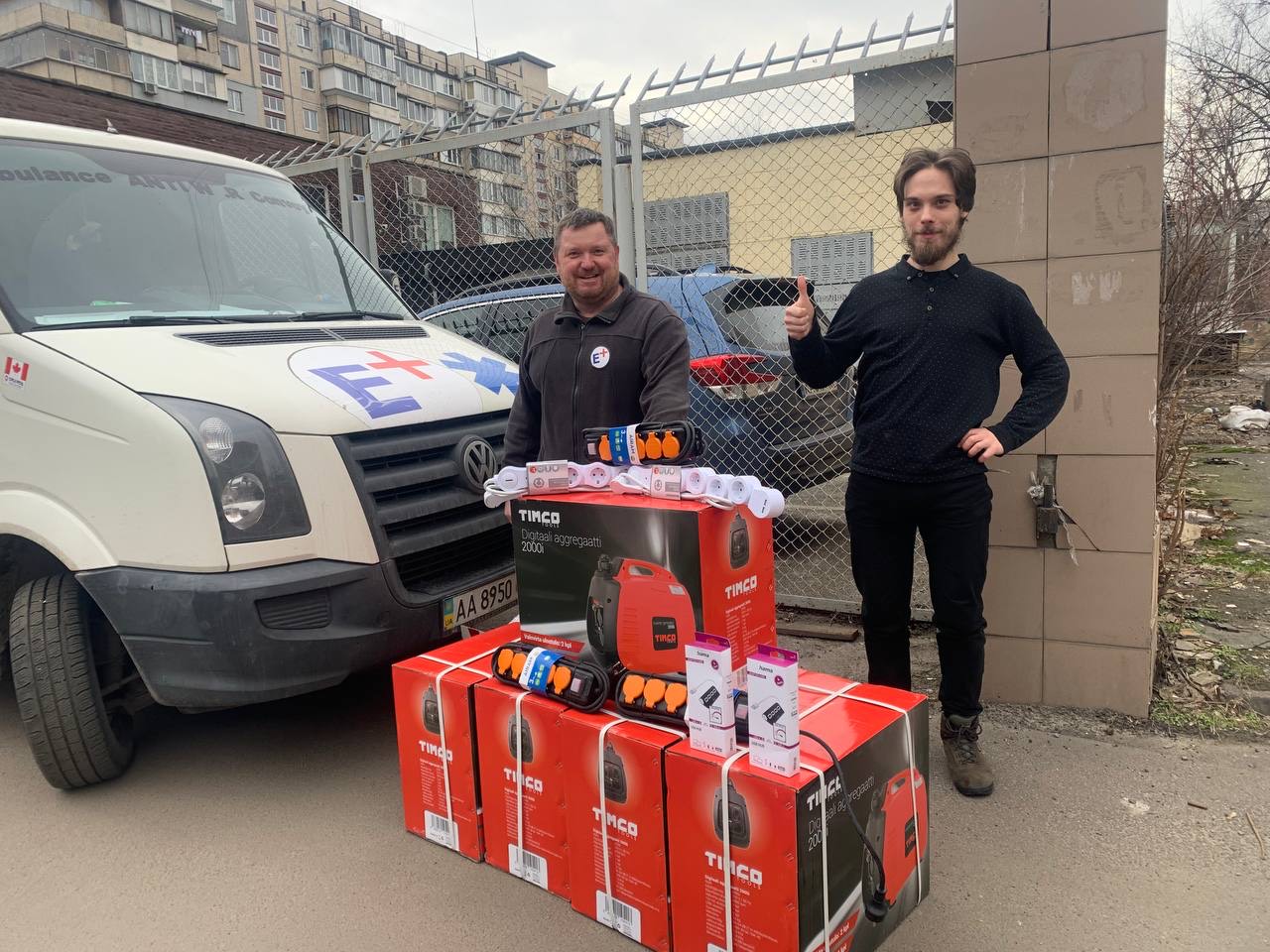 Kyiv, 15.2.2023. The generators have arrived to the organization E+.